Overfishing, poaching and environmental waste have destroyed marine populations and polluted our seas. International laws and agreements exist to protect our fragile marine ecosystems, but enforcement is lacking.
Paul Watson's Sea Shepherd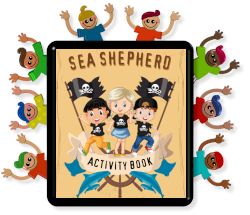 Sea Shepherd investigates and documents when laws to protect the world's oceans and marine wildlife are not enforced. Sea Shepherd use innovative, direct actions to expose and confront illegal activities on the high seas marine sanctuaries and in countries' sovereign waters through cooperative agreements with established law enforcement agencies.
Sea Shepherd was founded in 1977 by Captain Paul Watson in Vancouver, Canada, with the mission to protect and conserve all marine wildlife. Incorporated in Oregon in 1981 as the Sea Shepherd Conservation Society, today the movement has independent entities in over 20 countries working together on direct-action campaigns around the world. In 2013 Sea Shepherd Global was established in Amsterdam to coordinate communications and logistics for the Sea Shepherd fleet on campaigns outside the United States.
Illegal Fishing Campaigns
Global is on the front lines in Africa, working with local authorities and regional partners to combat one of the biggest threats to marine wildlife today: illegal, unreported, and unregulated (IUU) fishing. Read more to learn about our direct-action campaigns.
Video: Sea Shepherd's Part-Time Heroes
Sea Shepherd relies on the generosity of our donors to fuel and maintain our ships. Whether it is a one-time or monthly commitment, your donations make a real difference in keeping us ready for direct action campaigns around the world.