As times change, so do the methods of building a campaign. You have an obligation to know the facts about candidates before casting your ballot; but, with mudslinging, political missteps and distorted messages, it is easy to get lost. If you read the newspaper, watch TV or get your information online, you have been exposed to strategies that attempt to sway voter opinion.
Your Obligation
The more educated and informed a voter is, the clearer the decision-making process.
Finding unbiased, honest information can be challenging. Fortunately, nonpartisan websites like www.factcheck.org, www.politifact.com and www.opensecrets.org help sort out fact and fiction in political rhetoric.
For an even more in-depth view of candidates' backgrounds, stances, interest group ratings and finances, look no further than Project Vote Smart (www.votesmart.org). Project Vote Smart is a nonpartisan, non-profit educational resource for voters and is funded by politically independent individuals and foundations.
In addition, a close relative, friend or religious leader who shares your same values can be a reliable source of advice when deciding which candidate is worth your vote.
Anyone can learn to Vote from these printable learning worksheets and videos.
iCivics, Inc. is a 501c non-profit organization in the United States that provides educational online games and lesson plans to promote civics education and encourage students to become active citizens. iCivics was founded in 2008 by retired Supreme Court of the United States Justice Sandra Day O'Connor. iCivics's stated mission is to "ensure every student receives a high-quality civic education,and becomes engaged in – and beyond – the classroom."
First Time Voter
Video: Get Ready to Vote
Are you ready to vote for the first time? If you are a U.S. citizen, meet your state's requirements, and will be 18 by Election Day, you can vote.
But first, you need to register before your state's deadline. Check with your local election office. You can register there, or you may be able to register online, at the Department of Motor Vehicles, or using the National Mail Voter Registration Form.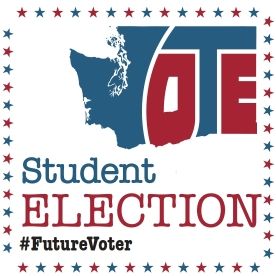 Your election office may send you a voter registration card listing your polling place. On Election Day, that is where you will go. When you get there, you may need to show an ID to vote. Then, fill out your ballot. If you do not know how, ask a poll worker. If you know you will not be able to get there on Election Day, you may qualify to vote by mail. Remember, voting rules are different in every state.
Common Voting and Election Terms

This is a glossary with definitions of common voting and elections terms.

Find My State or Local Election Office Website

Visit your state's election office website for state-wide voting guidance.

How to Vote or Register to Vote

Find information on registering to vote, confirming or updating your registration information, absentee and early voting, and voting on Election Day.

Midterm Congressional, State, and Local Elections

Congressional midterm elections take place between Presidential elections. State and local races happen every year. Learn about upcoming elections near you.

Voting and Election Laws and History

Know the laws that protect your right to vote and govern the elections process. Find results of past federal elections. Learn how voting methods and habits have evolved.
About USA Information and Resources
Can You Pass American Civics 101?
A lot of people find the American government structure confusing and overly complicated.
Civics 101: A Podcast by NPR at www.civics101podcast.org
https://www.civics101podcast.org/
http://feeds.megaphone.fm/PPY1168790592
Can you answer 12 basic questions about the American government?
http://quizpug.com/can-you-pass-american-civics-101/
Lesson Plans and Activities
USCIS offers lesson plans with instructions and teaching strategies for novice and seasoned ESL instructors preparing students for U.S. citizenship.
https://www.uscis.gov/citizenship/educators/lesson-plans-and-activities

The Cat in the Hat is running for President as the kids' candidate, and he wants you to help choose his first order of business when he gets into office! Have fun and learn more about The Cat's five partner organizations with the activities!
Ask USA.gov a Question Call 1-844-USAGOV1 (1-844-872-4681)
Public Downloads
All items are free to view, share, and download.
Public Downloads - Español (Spanish)
When available, we provide all our content with a Spanish version in our public download section. You can find additional material from sources listed in all our articles.
Video Playlist: About USA, Citizenship and Civics Naturalization Test