These downloads provide parents, guardians, teachers, and young children with interactive tools to further your child's education and prevent the spread of the germs in your community When germs invade the body, they get ready to stay for a while. Most germs are spread through the air in sneezes, coughs, or even breaths. Germs can also spread in sweat, saliva, and blood. Some pass from person to person by touching something that is contaminated, like shaking hands with someone who has a cold and then touching your own nose. Therefore, limiting contact with people who have a cold, when possible, is the best protection against germs.
Be a Germ Stopper
Educate kids with safety tips, activities, and story books to help the whole family prepare for emergencies. All items are free to download and we encourage use of these activities in your schools, communities, and families to help children learn the importance of being prepared and staying healthy.
Information and Resources on KidsHealth.org:
Doctor-reviewed advice on hundreds of physical, emotional, and behavioral topics — from before birth through the teen years.
Easy-to-follow articles, slideshows, videos, and health tools designed to help families learn, grow, and be their best.
Free lesson plans and programs for teachers and early childhood educators.
Germs Can Cause Illness
Helpful Tips, Information and Resources
The germs and the immune system processes all can lead to the annoying symptoms of a cold or flu-like infections, such as sniffles, sneezing, coughing, and diarrhea. They also could cause a high fever, increased heart rate, low blood pressure, an inflammatory response in the body, and even life-threatening illness.
Explore the Hospital Activity Book
Download free coloring and activity book to help ease your child into the hospital experience. Hospitalization and all that it entails can be stressful on your child as well as the entire family. In this book you will find information about specific experiences that many children must go through when hospitalized such as having their vital signs taken, IV (intravenous catheter) placement, and having an X-ray, CT Scan, or MRI, as well as opportunities to express their thoughts.
Sweet Dreams at the Hospital Coloring Book for Young Patients
Sweet Dreams at the Hospital introduces young patients to where they go and what happens when they need to have anesthesia and surgery. It is specifically aimed at addressing their concerns about the unknown in an engaging, unthreatening manner, and involving them in their own learning by presenting this information in the form of a coloring book.
Anesthesia and surgery go together. Surgical procedures include dental, general, orthopedic, urological, neurological, vascular, cardiac, and many others too numerous to list here. This coloring and activity book will reassure young patients about to undergo anesthesia/surgery that they will be surrounded by friendly people who care about them and want to help them get better.
How Can You Protect Yourself from Germs?
Remember the words that germs fear — soap and water. Washing your hands well and often is the best way to beat these tiny warriors. Wash your hands every time you cough or sneeze, before you eat or prepare foods, after you use the bathroom, after you touch a pet.
Cover your nose and mouth when you sneeze and cover your mouth when you cough to keep from spreading germs. So, if you must cough, it is best to do it on the inside of your elbow, so you are not contaminating your hands.
Using tissues for your sneezes and sniffles is another great weapon against germs. But do not just throw tissues on the floor to pick up later. Toss them in the trash and, again, wash your hands!
Another way to fight and prevent infections is to make sure you get all the routine immunizations from your doctor. No one likes to get shots, but these helps keep your immune system strong and prepared to battle germs. You can also keep your immune system strong and healthy by eating well, exercising regularly, and getting good sleep. All this will help you to be prepared to fight germs that cause illness.
Hand Washing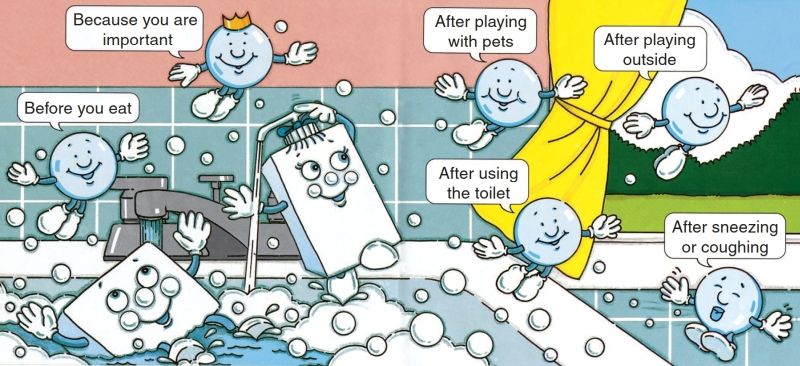 Wash your hands with soap at critical times, especially before eating, cooking, or feeding others.
Model good handwashing behavior and remind or help others to always wash their hands before eating.
Make handwashing part of your family meals
Establish places to wash your hands in the household, in your community, in schools, workplaces, and in health facilities.
Promote effective handwashing behavior change in research, policy, programs, and advocacy.
Global Handwashing Day is a global advocacy day dedicated to increasing awareness and
understanding about the importance of handwashing with soap as an effective and affordable way
to prevent diseases. Global Handwashing Day is an opportunity to design, test, and replicate creative
ways to encourage people to wash their hands with soap at critical times. www.globalhandwashing.org
Video: The Latest on Hand Sanitizers
Personal Hygiene
Explore, educate and participate using learning activities, coloring pages, word puzzles for the everyday habits that keep harmful bacteria away from your skin, hair, and teeth. See how good hygiene prevents illnesses and helps you feel calm and confident. Discover other benefits of looking, feeling, and smelling great—especially as you get older! So, grab your soap, a toothbrush and a pair of fresh socks.
Public Downloads
All items are free to view, share, and download.
When available, we provide all our content with a Spanish version in our public download section. You can find additional material from sources listed in all our articles.
Download Germ Prevention Activities
Download Handwashing Activities
Download Scrub Club Activity Worksheets
Download Handwashing Educational Posters