Food poisoning peaks in the summer months when warmer temperatures cause foodborne germs to flourish. Leaving food out too long at room temperature can cause bacteria to grow to dangerous levels that can cause illness.
Grilling, Hiking, Camping and Boating
Hiking, camping, and boating are good activities for active people and families, and in some parts of the country you can enjoy the outdoors for 2 or 3 seasons. In many cases, these activities last all day and involve preparing at least one meal. If the food is not handled correctly, foodborne illness can be an unwelcome souvenir.
Summer Months Foods Safety
Cooking Without Thawing
When there is not enough time to thaw frozen foods, or you are simply in a hurry, just remember: it is safe to cook foods from the frozen state. The cooking will take 50% longer than the recommended time for fully thawed or fresh meat and poultry.
Check Your Grill and Tools
Use a moist cloth or paper towel to clean the grill surface before cooking. If you use a wire bristle brush, thoroughly inspect the grill's surface before cooking. Wire bristles from grill cleaning brushes may dislodge and stick into food on the grill.
Injuries from Ingestion of Wire Bristles from Grill-Cleaning Brushes
Foreign object ingestion is a common reason for visiting an emergency department (ED), particularly for children (1–3). In recent years, internal injuries have been reported following unintentional ingestions of wire grill-cleaning brush bristles by both children and adults (4–6).
CLEAN: Wash hands and surfaces often
SEPARATE: Separate raw meats from other foods
COOK: Cook to the right temperature
CHILL: Refrigerate food promptly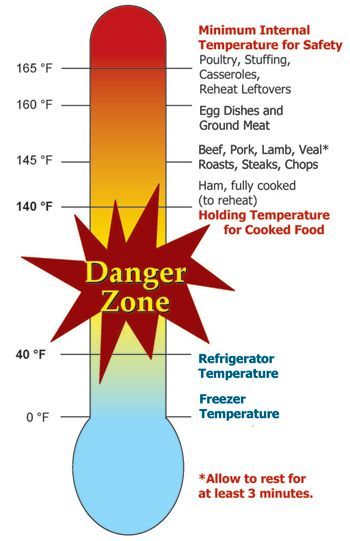 Do not Cross-contaminate
Throw out marinades and sauces that have touched raw meat juices, which can spread germs to cooked foods. Use clean utensils and a clean plate to remove cooked meat from the grill.
Keep Food Out of the "Danger Zone"
Never leave food out of refrigeration over 2 hours. If the temperature is above 90 °F, food should not be left out more than 1 hour.
Keep hot food hot—at or above 140 °F. Place cooked food in chafing dishes, preheated steam tables, warming trays, and/or slow cookers.
Keep cold food cold—at or below 40 °F. Place food in containers on ice.
Cook
Use a food thermometer to ensure meat is cooked hot enough to kill harmful germs. When smoking, keep temperatures inside the smoker at 225°F to 300°F to keep meat a safe temperature while it cooks.
145°F – whole cuts of beef, pork, lamb, and veal (stand-time of 3 minutes at this temperature)
145°F – fish
160°F – hamburgers and other ground beef
165°F – all poultry and pre-cooked meats, like hot dogs
After Grilling:
140°F or warmer – until it's served
Refrigerate and Store Leftovers
One of the most common causes of foodborne illness is improper cooling of cooked foods. Bacteria can be reintroduced to food after it is safely cooked. Divide leftovers into small portions and place in covered, shallow containers for quick cooling and refrigerated at 40 °F or below. Put in freezer or fridge within two hours of cooking (one hour if above 90°F outside).
Food Safety While Hiking & Camping
You may want to hike for just a few hours, or you may want to camp for a few days. One meal and some snacks are all that is needed for a short hike. Planning meals for a longer hike or camping trip requires more thought. You must choose foods that are light enough to carry in a backpack and that can be transported safely.
Safe Drinking Water
Do not depend on fresh water from a lake or stream for drinking, no matter how clean it appears. Some pathogens thrive in remote mountain lakes or streams and there is no way to know what might have died and fallen into the water upstream. Bring bottled or tap water for drinking. Always start out with a full water bottle and replenish your supply from tested public systems when possible. On long trips you can find water in streams, lakes, and springs, but be sure to purify any water from the wild, no matter how clean it appears.
What Foods to Bring?
If you are backpacking for more than a day, the food situation gets a little more complicated. You can still bring cold foods for the first day, but you'll have to pack shelf-stable items for the next day. Canned goods are safe, but heavy, so plan your menu carefully. Advances in food technology have produced lightweight staples that don't need refrigeration or careful packaging. For example:
peanut butter in plastic jars;
concentrated juice boxes;
canned tuna, ham, chicken, and beef;
dried noodles and soups;
beef jerky and other dried meats;
dehydrated foods;
dried fruits and nuts; and
powdered milk and fruit drinks.
Powdered mixes for biscuits or pancakes are easy to carry and prepare, as is dried pasta. There are plenty of powdered sauce mixes that can be used over pasta but check the required ingredient list. Carry items like dried pasta, rice, and baking mixes in plastic bags and take only the amount you will need.
Video: Barbecue Basics: Tips to Prevent Foodborne Illness
Information and Resources
Download Food Handling Fact Sheets
Download a quick overview for staying healthy and free from food poisoning when getting takeout, delivery or dining out. A reference guide of invaluable information on meal prep, shopping, and storage lists of DOS and DON'TS food safety from the grocery cart to the refrigerator
FoodSafety.gov Charts: Food Safety at a Glance
How long can you store leftovers in the refrigerator? How can you tell when chicken breasts are done? How long does it take to cook a turkey? Check out these charts for fast answers.
Storing Food Charts
Storing Food
Whether putting food in the refrigerator, the freezer, or the cupboard, you have plenty of opportunities to prevent foodborne illnesses.
Preparing and Cooking Food Charts
Preparing and Cooking Food
One of the basics of food safety is cooking food to its proper temperature. Foods are properly cooked when they are heated for a long enough time and at a high enough temperature to kill the harmful bacteria that cause foodborne illness.
FoodSafety.gov: FoodKeeper App
The FoodKeeper helps you understand food and beverages storage. It will help you maximize the freshness and quality of items. By doing so you will be able to keep items fresh longer than if they were not stored properly. It is also available as a mobile application for Android and Apple devices.
Public Downloads
All items are free to view, share, and download.
Public Downloads - Español (Spanish)
When available, we provide all our content with a Spanish version in our public download section. You can find additional material from sources listed in all our articles.
Download Food Safety Activities, Coloring Sheets, Infographics and Videos
Food Safety Educational Downloads
Download Handwashing Activities, Worksheets, Posters and Videos
Handwashing Educational Downloads
Download Handwashing Activities
Download Scrub Club Activity Worksheets
Download Handwashing Educational Posters